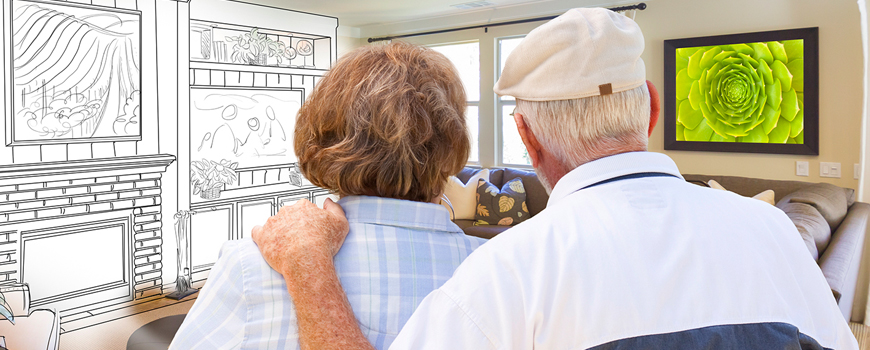 It's wise to know which home renovations add the most value, no matter if you're planning to live in your house for a long time or only a couple of years. Here are the 4 home remodeling projects that yield the highest returns according to the Cost vs. Value report.
MANUFACTURED STONE VENEER
Replacing the vinyl siding on part of your home with a stone veneer, such as an entrance door, is a significant curb-appeal improvement for your house. This cosmetic enhancement and accent design element is likely to catch a potential buyer's eye and typically recovers 95% of your renovation costs.
GARAGE DOOR REPLACEMENT
When it comes to getting cashback on your investment, a decent looking garage door tops the list. If you decide to sell your house, this curb-appeal enhancer will get you back nearly every dollar you've spent on selling your home. The calculation for this job depends on the cost of removing and disposing of an existing garage door and then replacing it with a new four-section garage door with heavy-duty galvanized steel tracks.
MINOR KITCHEN REMODEL
Creating a modern-looking and practical kitchen can bring more than just beauty to your home: it can improve your enjoyment of everyday activities such as cooking, having fun with friends, and sharing meals with family. Potential investors, therefore, see the inherent value of such an upgrade.
In this type of remodeling project, you could replace appliances with new, more energy-efficient models, reface cabinets with new wood panels, install new countertops, replace hardware, install a new sink and faucet, add new flooring and repaint.
SIDING REPLACEMENT
Old, dilapidated siding can make even the most beautiful house look worn down. The average home will cost just over $16,000 to replace 1,250 square feet of old siding and will get back roughly three-quarters of that investment on resale.