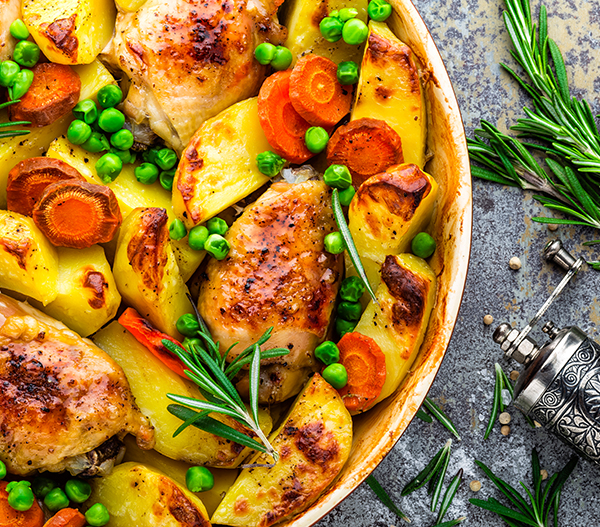 Prep 20 min
Cook 30 Min
Total 50 Min
Ingredients
for 5 servings
5 (6 - 7 oz) bone-in, skin on chicken thighs
4 Tbsp olive oil, divided
3 cloves garlic, minced (1 Tbsp)
1 Tbsp thyme
1 large sweet potato (cubed)
1 lb Brussels sprouts, sliced into halves
2 Honesy crisp apples (sliced)
2 shallot bulbs, peeled and sliced
sea salt and ground black pepper to taste
Preparation
Preheat oven to 450 degrees.
Pour 2 Tbsp olive oil, red wine vinegar, garlic and thyme into a gallon size resealable bag.
Add chicken, season with salt and pepper then seal bag and massage mixture over chicken. Set aside and let rest while chopping veggies.
Place sweet potato, Brussels sprouts, apples and shallot on an 18 by 13-inch rimmed baking sheet.
Drizzle with remaining 2 Tbsp olive oil then toss to evenly coat, season with salt and pepper to taste.
Spread into an even layer.
Set chicken thighs over veggie/apple layer.
Roast in preheated oven until chicken and veggies are golden brown, about 30 - 35 minutes
Enjoy!