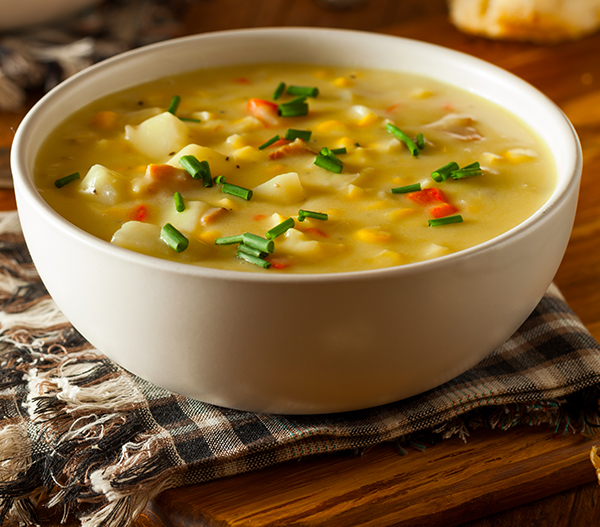 Prep 15 Min
Cook 30 Min
Total 45 Min
For 6 servings
4 slices of bacon
3 cloves garlic, minced
1 onion, diced
4 red potatoes, chopped
1 package frozen corn kernels
4 cups vegetable stock
1 teaspoon dried thyme
3/4 cup heavy cream
3 tablespoons all-purpose flour
Salt and pepper to taste
Preparation
Set Instant Pot to the high saute setting. Add bacon and cook until brown and crispy, about 6-8 minutes. Transfer to a paper towel-lined plate.
Add garlic and onion. Cook, stirring frequently, until onions have become translucent, about 2-3 minutes.
Stir in bacon, potatoes, corn, vegetable stock, thyme season with salt and pepper, to taste. Select manual setting; adjust pressure to high, and set time for 10 minutes. When finished cooking, quick-release pressure according to manufacturer's directions.
In a small bowl, whisk together heavy cream and flour; set aside.
Select high sauté setting. Bring to a boil; stir in heavy cream mixture and cook, stirring frequently, until slightly thickened, about 4-5 minutes. If the mixture is too thick, add more vegetable stock as needed until desired consistency is reached.
Serve immediately.
Enjoy!