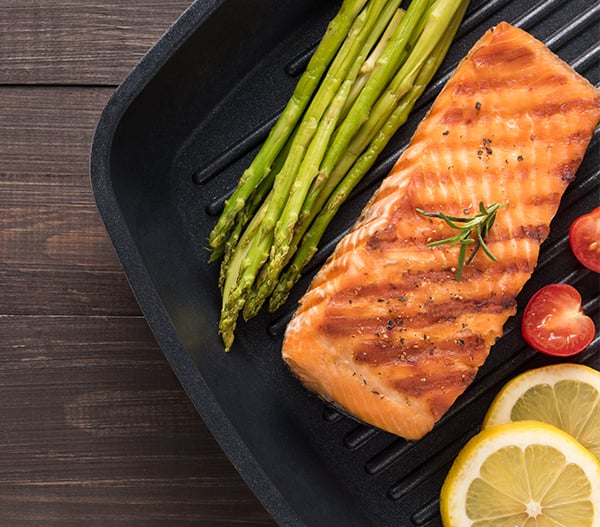 Prep 10 min
Cook 10 Min
Total 20 Min
Ingredients
for 2 servings
1 bunch fresh asparagus, trimmed, or as desired
1 tablespoon reduced-sodium soy sauce
1 tablespoon honey
1 teaspoon olive oil, or as needed
1 (8 ounce) salmon fillet
sea salt and ground black pepper to taste
Preparation
Place a steamer insert into a saucepan and fill with water to just below the bottom of the steamer. Bring water to a boil. Add asparagus, cover, and steam until slightly tender, 2 to 4 minutes.
Whisk soy sauce and honey together in a bowl until glaze is smooth.
Set oven rack about 6 inches from the heat source and preheat the oven's broiler. Line a baking sheet with aluminum foil and brush with olive oil.
Place salmon fillet and asparagus on the prepared baking sheet; season with salt and pepper.
Broil in the preheated oven for 5 minutes. Drizzle 2/3 of the glaze over salmon and asparagus. Broil until fish flakes easily with a fork, 3 to 5 minutes. Drizzle remaining glaze over salmon.
Enjoy!