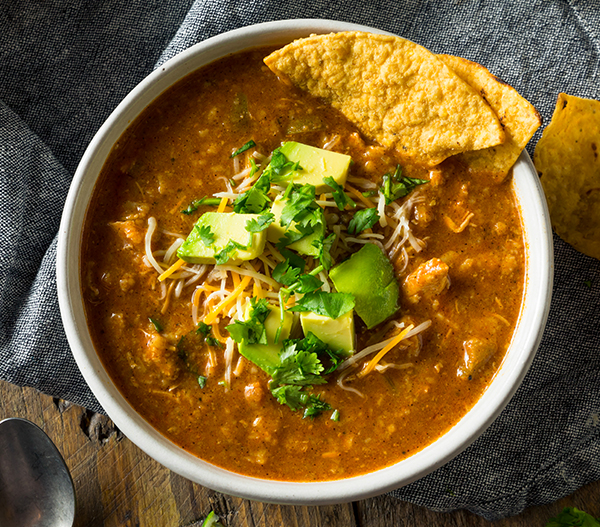 Prep 30 Min
Cook 30 Min
Total 1 Hr
For 8 servings
4 eaches shallots, chopped
2 carrots, peeled and diced
2 poblano peppers, seeded and chopped
2 teaspoons ground cumin
1 teaspoon chili powder
1 teaspoon dried oregano
1 can fire-roasted diced tomatoes
4 large bone-in, skin-on chicken thighs
6 cups chicken stock
1 avocado, sliced
1 can black beans, drained and rinsed
Preparation
Place shallots, poblano peppers, and carrots in a multi-cooker.
Add cumin, salt, chili powder, oregano, and cayenne pepper; stir well to combine.
Add oil. Turn on cooker and select Saute function. Cook and stir until just slightly softened.
Pour in tomatoes. Nestle chicken thighs into the mixture. Add stock and bay leaves
Close and lock the lid. Select high pressure according to manufacturer's instructions; set timer for 15 minutes. Allow 10 to 15 minutes for pressure to build.
Release pressure using the natural-release method according to manufacturer's instructions, 10 to 40 minutes.
Unlock and remove lid. Transfer chicken thighs to a plate and remove skin, bones, and any cartilage.
Shred into bite-sized pieces. Add shredded chicken back to the pot.
Stir in black beans.
Serve in Bowl and top with avocado slices
Enjoy!