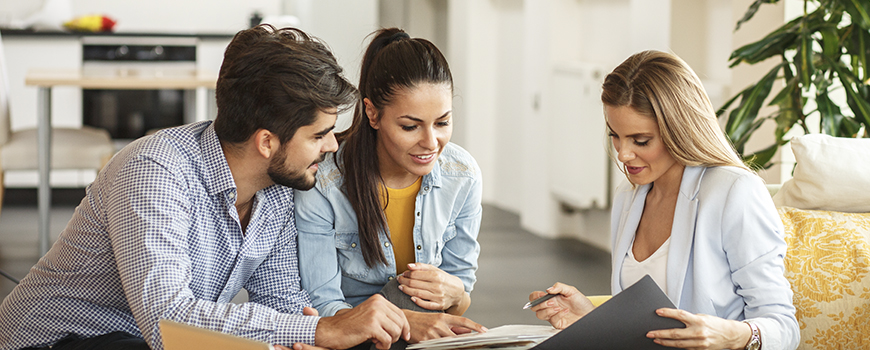 Buying your first home is one of the most exciting times in your life, but like with any large purchase comes a sense of uncertainty. By empowering yourself with a little bit of insider knowledge, you can eliminate doubt and ensure you are making the best purchase possible. Keep in mind that buying a home can be a very long process, so don't feel the need to rush through it.
1. KNOW YOUR CREDIT
It's essential to know your credit score before you start searching for a house and shop around for a mortgage. You'll need a credit score of 740 or higher to obtain the best possible loan rate. By knowing what your credit rating is in advance, you can give yourself some time to improve your score before you start looking at houses.
Paying off debt and consistently paying your bills on time is one of the easiest ways to boost your credit rating. It may be a good idea to postpone your house search, to improve your credit and secure a better mortgage rate.
2. KNOW WHAT DETERMINES YOUR LOAN TERMS
There are three things that are taken into consideration when a bank or lender determines the amount of the loan, and what the terms of that loan would include:


Your credit rating
Your income
Your income-to-debt ratio
It's critical before you start shopping for a mortgage that you know what defines your rate and terms. Through knowing certain factors like your credit rating or debt-to-debt ratio and how they can be changed, you can work towards obtaining a better mortgage rate. It is much easier to explore these considerations beforehand, rather than to think about them when putting an offer on your dream home.
3. YOUR LOAN AMOUNT IS NOT YOUR SPENDING AMOUNT
When it comes to budget, it's essential to factor in values such as closing costs and monthly mortgage payments. Keep in mind that just because a bank or lender pre-approves you for a $600,000 mortgage, it does not mean you can afford a $600,000 house.
Looking at your monthly income and expenses and calculating how much you can afford to spend on a monthly mortgage payment is the best way to determine what you can really afford.
4. DON'T FORGET ABOUT CLOSING COST
It's a common mistake for first-time homebuyers to believe the down payment is all they have to pay when you make an offer on the house, and it's accepted. Many fees are involved in buying a home, and one such charge is the closing costs. Closing costs can range from an average of 2 percent-3.5 percent of your home purchase's total cost. Make sure to include this fee in your budget so it won't be a surprise when you have to pay it.
Home maintenance, property taxes, home insurance, and travel costs are also some extra fees to keep in consideration. Ask your real estate agent to send you a list of approximate fees to research.
5. HAVE A HOME EMERGENCY SAVINGS ACCOUNT
One of the significant differences between renting and owning is that you, as the homeowner are now responsible for paying repair and maintenance costs. I recommend setting aside some money in a home emergency fund. It's likely that when you buy a home, such unplanned expenses will happen, so make sure you're prepared to cover those expenses when they come up.